I'm Geoffrey Cullen and I'd like to introduce my photographic web-site to you. As you can see, I've named my site, "Cullen Images". 
This is a photograph of me taken on the bank of the Merced River while visiting the Yosemite National Park in California. 
I've answered some questions that I am often asked below. Please don't hesitate to get in touch with me if I can be of service to you.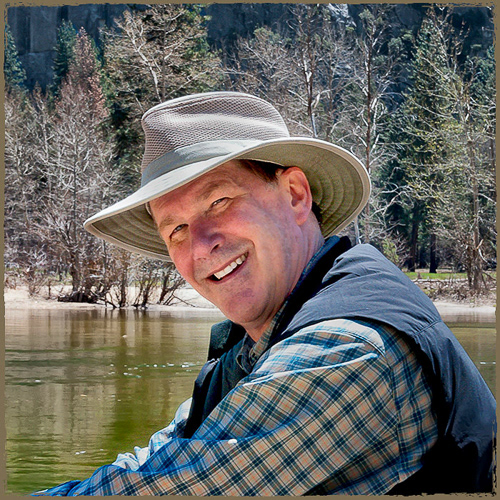 I'm from Australia originally and my "Aussie" accent still lingers on. I have lived in Colorado in the United States since 1989 and Denver is my home town. (Funnily enough, when I visit family and friends in Australia, they tell me I sound a bit like a Texan.)
Why did I create this web site?
The images shown on this site reflect my interests in our natural environment and its endless variety of fascinating animals, trees, flowers and magnificent scenery. As well, I've been lucky to have visited many amazing places around the world and along the way, I have captured many awe-inspiring images. As well as showcasing these images, this web site also provides a useful resource for home owners, interior decorators, office managers and designers who are interested in bringing images from the outdoors, indoors.
What is my "style" of photography?
I believe that photography lets us appreciate and enjoy our own special interests, places and memories. It is a means to capture the present but also allows our experiences and memories from past events to be refreshed well into the future. I am drawn to capturing nature's expressions of light and shadows, her myriad colours, contrasts and details. I strive to reflect those qualities in my photography and print making. I continue to learn and refine my techniques with the goal of developing the quality of my work. 
What did I do before photography?
As far back as I can remember I've always had an interest in photography but, until I retired from the formal workforce, I had little time to indulge these interests. Professionally, I was a natural resource economist. Initially, I worked in the Australian sugar industry and subsequently, in business analysis roles in the mining industries of Australia and the 

USA

. 
What camera gear do I use?
Like many others from my generation, my first camera was a family "hand-me-down", Kodak Box Brownie. After that, a few other film cameras came and went. My old favourite was a Pentax 35mm that lasted for many years until one day, it's neck-strap broke and the camera plonked into the Pacific Ocean. 
Because I don't care to lug around a lot of gear, I'm a minimalist when it comes to equipment. These days, I use Nikon and Sony products. I'm also a huge fan of my Apple iPhone. For those everyday, unplanned opportunity or "memory" shots, the iPhone camera does an impressive job. Needless to say, one big advantage is that my iPhone is usually with me. 
What photo-editing software do I like using?
Adobe Photoshop Lightroom is my main tool for managing my files and doing preliminary editing work. Although Lightroom is able to get a lot done, Adobe Photoshop is also an essential tool for me. When augmented with DxO and OnOne plugins, photo-editing using Lightroom and Photoshop is a lot of fun. 
I have an Instagram account... you can check it out on this link. 
Are images on this site available for sale?
Yes, indeed! These images are available in a variety of popular formats and finishes. Reproduced by premium printing laboratories, they are available as ready-to-hang wall art. Presentation products such as prints mounted under acrylic glass are very popular. If you are interested learning more about the availability of these products, please contact me. I am happy to prepare a cost estimate for your consideration if you send me your requirements.
Am I able to restore old or damaged photographs?
Yes! Some old photographs hold personal, emotional or historical importance for families and individuals. These special types of photographs deserve to be restored and brought back to life. If you have an important, but damaged photograph, I am able to restore it for you using a variety of digital restoration techniques. Please be aware that, depending on the extent and kind of damage, digital restoration can be a detailed, pains taking and often time consuming process. Some restorations can be completed in as little as an hour, whereas others can take several hours to complete. Please contact me directly for a photograph restoration cost estimate.
Do I protect your private information?
Yes, of course! I absolutely respect your online privacy and will never sell, rent, or give your email address, or any other private information to anyone.
​​​​​​​
Are there restrictions on reproducing or using my photographs?
1) About Personal Usage Of Images:
Your personal usage of my images, such as linking to social media networking sites, (e.g., Facebook, Pinterest, etc.), is allowed. However, proper attribution of my images on those sites would be much appreciated. 
2) About Commercial Usage Of Images:
Commercial use of my photographs is not allowed without my prior authorization. Images on this site are copyright and registered at the US Copyright Office. All rights are reserved. This means of course, that no unauthorized commercial or promotional usage is permitted. For example, images may not be copied, modified, distributed or used without express prior permission. 
Please contact me if you are interested in downloading or licensing any of my work for commercial use.
Thanks for taking the time to visit my site and please don't hesitate to get in touch if I can be of service to you. I hope you have found your visit here enjoyable.